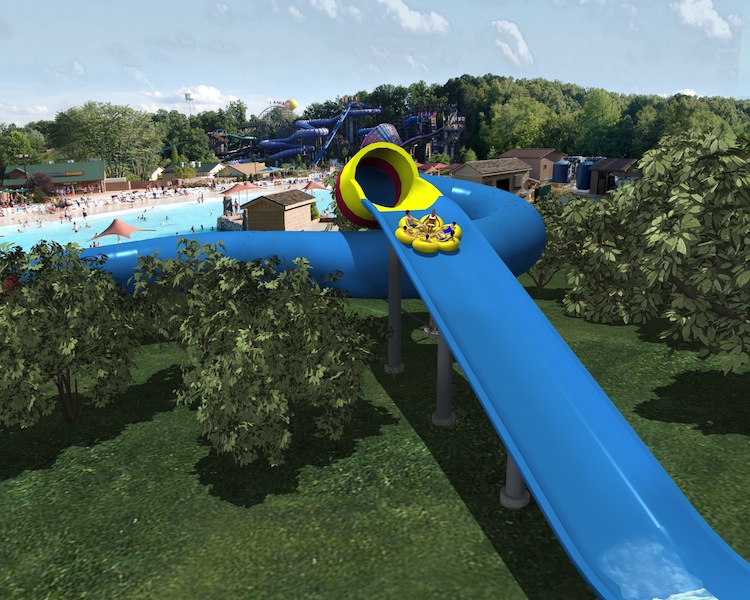 Coming in 2012! What's the largest animal found on the safari? Lion? Gorilla? Elephant? Think back further in time … it was the great and powerful Mammoth. This immense beast once ruled the safari … and now he rules Splashin' Safari!
Our Wildebeest claimed the title of World's Longest Water Coaster when it opened in 2010. But Wildebeest bows to the mighty Mammoth and turns over the title. For Mammoth is taller and longer and wider..
Wider?
That's right. Mammoth boats will be new six-passenger boats. Round boats. Nine feet in diameter, flying up and down hills in the 15-foot-wide slide. That means your thrilling trek on the World's Longest Water Slide may be facing forward, facing sideways, or facing backwards.
Facing backwards? Yes, and in the dark. There are five enclosed slide sections. And many twists and turns. Plus air-time, that incredible feeling of being lifted off your seat.
What powers these six-passenger boats up the hills? As with Wildebeest, we use Linear Induction Motor (LIM) technology. In total, eight LIMs will magically propel the boats on their way through this 1/3 mile, air-time filled water coaster.
Just as with Wildebeest, the massive Mammoth begins with a conveyor ride up the water coaster's lifthill. Following the breath-taking five-story drop at a 28-degree angle, LIMs will fly your boats back up hill after air-time-filled hill.
Mammoth will tower seven stories from highest to lowest point and cover more than two acres.
With bright yellow, round, six-passenger boats, your whole family will be able to challenge Mammoth together – and watch each other's delighted faces as you conquer this epic ride together.
Opening May 2012, Mammoth – the World's Longest Water Coaster – rules!
Ride Facts
Type: HydroMagnetic Water Coaster
Height: 69 feet
Length: 1/3 mile (1,763 feet)
Highest Drop: 53' at 45-degree angle
Drops: 6 drops, totaling 282'
Linear Induction Motors: 8, including the world's longest LIM on a water-coaster
World Record: World's Longest Water Coaster (Wildebeest is #2)
Boats: Six-passenger round boats
Theme: Mammoth, the immense beast which once ruled the safari
Designer: ProSlide Technology Inc., Ontario, Canada
Press Release Link
|
Image Link